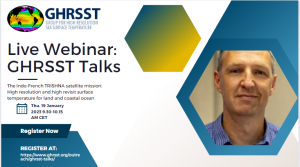 Thursday 19 January 2023
Time: 
From 9.30 am-10.15 am CET
From 8.30 am-9.15 am UTC
(check your timezone https://www.worldtimebuddy.com)
The Indo-French TRISHNA satellite mission: high resolution and high revisit surface temperature for land and coastal ocean
The TRISHNA mission (Thermal infraRed Imaging Satellite for High-resolution Natural resource Assessment) is a cooperation between the French (CNES) and Indian (ISRO) space agencies, for a satellite to be launched in 2025 for a 5-year lifetime, to measure approximately twice a week the visible, near infrared and thermal infrared signal of the surface-atmosphere system globally and at 60 m resolution for the continents and coastal ocean, with a resolution of 1000 meters over deep ocean. Level 2 products –free and open data policy- include Sea Surface Temperature, visible and near infrared surface reflectances as well as cloud mask, aerosol optical thickness and data quality flags.
Design drivers of the mission: (i) monitoring of ecosystem stress and water use, focusing on agriculture and water content of vegetation, through evapotranspiration; and (ii) coastal and inland waters: characterization of the dynamics of the shallow bathymetry; monitoring of exchanges in estuaries and intertidal zones; sea surface temperatures and winds; sub-mesoscale activity in coastal areas and in the high seas; oil spills, thermal pollutants, effluents and wastewater discharges.
Interactions are needed with the experts and future users: definition of monitored coastal areas and polar zones, algorithms for SST and optical surface variables computation, cloud mask, product content: variables, auxiliary and ancillary data.
The synergy (orbits, products, algorithms, CAL/VAL) between TRISHNA and future operational high-resolution thermal infrared missions (Surface Biology and Geology (SBG, 2027) from NASA/JPL, Land Surface Temperature Monitoring (LSTM, 2029) from ESA) is also a key element of the preparation of TRISHNA.
Speaker's profile
Philippe Gamet and Emmanuelle Autret work for the Centre National d'Etudes Spatiales (CNES/CESBIO). Philippe is an expert in thermal infrared activities. Since 2016 Philippe is in involved in the TRISHNA mission, cooperation between the French (CNES) and Indian (ISRO) Space Agencies as Project Scientist and Science Team secretary. His tasks include coordination of science activities with other international thermal infrared missions in preparation (LSTM from ESA and SBG from NASA and ASI), and the definition of the scientific products.
Structure of each GHRSST talk
A time slot of 45 minutes:
Short introduction on GHRSST and the speaker,
20 minutes science talk,
20 minutes Q&A with the speaker.
Eventbrite registration
https://www.eventbrite.dk/e/the-indo-french-trishna-satellite-mission-tickets-479887054097
Presentation and other useful resources
Presentation (PDF): Gamet, Philippe, Marcq, Sebastien, & Autret, Emmanuelle. (2023, January 19). The Indo-French TRISHNA satellite mission High resolution and high revisit surface temperature for land and coastal ocean. Zenodo. https://doi.org/10.5281/zenodo.7550148
TRISHNA mission questionnaire: https://forms.ifremer.fr/trishna/trishna-space-mission-for-water-ice-and-snow/ The TRISHNA mission (Thermal infraRed Imaging Satellite for High-resolution Natural resource Assessment) is a cooperation between the French (CNES) and Indian (ISRO) space agencies. It will measure the optical and thermal spectra emitted and reflected by the Earth from a low-altitude Sun synchronous orbit, over a swath with a width of 1026 km. It is intended to measure approximately twice a week the thermal infrared signal of the surface-atmosphere system at 57 m resolution for the continents and the coastal ocean. This questionnaire aims at refining the coverage mask for the full resolution (60m) acquisition mode of TRISHNA. Contact person: Emmanuelle Autret, Laboratoire d'Océanographie Physique et Spatiale, Ifremer. emmanuelle.autret@ifremer.fr
GHRSST Talk Recordings