The European Space Agency, together with ASI, CNES, ISRO and NASA is organising the International Workshop on High-Resolution Thermal EO, to be held at ESA/ESRIN on 10-12 May 2023.
High-resolution thermal Earth Observation (EO) has been identified as a major observational gap in our rapidly warming climate. Land-surface temperature is a key variable needed for understanding and adapting to climate variability, managing water resources sustainably for agricultural production, mitigating health stress during heatwaves, predicting droughts, monitoring coastal and inland waters and addressing natural hazards such as fires and volcanoes.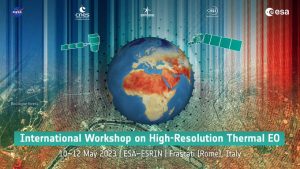 The main objectives of the workshop are:
Assess the status of current and planned international high-resolution thermal missions for terrestrial and coastal applications
Review the main related activities and projects in the relevant science and operational application areas
Prepare the community for the use of the upcoming high-resolution thermal missions
Strengthen international cooperation and coordination in the space and ground segment operation, calibration and validation, products definition & harmonization, data access and data exploitation
Identify high-priorities topics for future R&D activities supporting the preparation of thermal EO applications
More information on the objectives and main topics of the workshop can found on the event website  https://thermal2023.esa.int/
The Call for Abstract is open. Please submit your contribution @ https://www.conftool.pro/thermal2023/.
The deadline for abstract submission is: 15 January 2023.
We look forward to receiving your kind contribution!
Emmanuelle Autret
on behalf of the Thermal EO 2023 Workshop Organising Committee