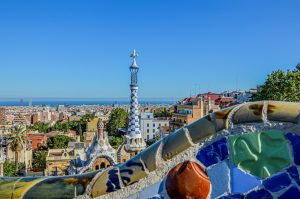 The 23rd International Science Team Meeting (GHRSST XXIII) took place on 27 June -1 July 2022 as a virtual and in-person meeting hosted by ICM/CSIC in Barcelona (Spain).
Event Dates: 27 June-1 July 2022
Format: a virtual and in-person meeting
Physical location: Institut de Ciencies del Mar (CSIC), Passeig Marítim de la Barceloneta 37-49, 08003 Barcelona (ES)
Virtual location: EUMETSAT Moodle & teleconferencing tools
Local host: Institute de Ciencies del Mar, the meeting is organised with the support of Cristina González-Haro and Jordi Isern-Fontanet (CSIC).
Sponsors of the event: ICM-CSIC, BEC, and PTI-Teledetect.

NEW! Proceedings
The proceedings contain the links to all the resources listed below (PowerPoints, recordings and posters).
Download the document: https://zenodo.org/record/7471945#.Y6QMA3aZOHs
Cite as: GHRSST Project Office. (2022). Proceedings 23rd International GHRSST Science Team Meeting (2022) GHRSST XXIII. Zenodo. https://doi.org/10.5281/zenodo.7471945
Sessions
Science Sessions 
Science Session 1 – Applications
Science Session 2 – Processing and products
Science Session 3 – Calibration, Validation and Product Assessment
Science Session 4 – Algorithms
Science Session 5 – Computing and Products
Science Session 6 – Future Missions
In-person  workshops
Workshop W1: What dynamical information can we extract from High Resolution Sea Surface Temperatures?
Workshop W2: Coastal and inland waters 60m-100m resolution SST products challenges
Workshop W3: Open science on the cloud for GHRSST
Workshop W4: Outstanding problems in infrared sea surface temperature retrieval
Workshop W5: Open Science is the future, how does GHRSST evolve?
Workshop W6/PD3: GHRSST priorities
Agencies' updated and discussions
Task team reporting
Evolution of the Regional/Global task sharing (R/G TS)
Climatology and L4 Intercomparison (IC-TT)
High Latitude SST (HLSST TT)
Matchup Database Standards (MDB TT)
Feature Fidelity (F2T2 TT)
Shipborne Radiometry (ISFRN TT)
Single Sensor Error Statistics and L4 (SSES-L4 TT)
HRSST drifters for satellite SST validation (HRSST TT)
Panel Discussions
PD1: Training formats on SST, an interactive discussion and co-design session
PD2: GHRSST 25th anniversary activities
PD3: GHRSST priorities
CEOS SST-VC Meeting
Advisory Council Meeting
Closing session