EVENT DATE(S):
Monday 5th June 2017 –
Friday 9th June 2017
EVENT RESOURCES:
See below.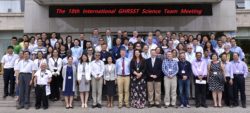 The meeting, hosted and sponsored by the Ocean University of China, and co-sponsored by the National Ocean Satellite Application Center K. C. Wong Education Foundation, was held to bring scientific and operational SST users and producers together to review progress and achievements of SST science and applications within the GHRSST framework. The meeting was open to SST experts and the application community actively involved in SST science and applications.
Resources
Presentations
Plenary Session I: Introduction
Plenary Session II: Applications
Plenary session III: Product developments
Plenary Session IV: Surface fluxes
Plenary Session V: Sampling
Plenary Session VI: Climate
Plenary Session VIII: In situ
Closing Session